The Clevo NH70 is a 17.3-inch, powerful gaming laptop. It offers a pricing range that is reasonable for all gaming fans. Due to its exceptional performance, it affords a seamless experience.
If you want an exceptional laptop at an affordable price, the Clevo nh70 is a superb option. It is the most popular gaming laptop on the market. The Clevo NH70 is chock-full of features and is certain to deliver an interesting gaming experience.
The Clevo NH70 has a 17.3-inch full HD display, an Intel core i7 processor from the ninth generation. And eight gigabytes of random access memory to offer a seamless gaming experience. The Clevo NH70 allows you to easily run multiple apps concurrently. The Clevo NH70 also boasts an interesting display. This Clevo NH70 gaming laptop offers an all-encompassing gaming experience.
The Clevo nh70 features a high resolution and, hence, a high-quality display, as well as a low-latency SSD, allowing it to remain among the most formidable gaming laptop clans. Let's go with our analysis of the Clevo nh70 gaming laptop.
What is Clevo NH70 Laptop?
The Clevo nh70 is among the most powerful gaming laptops ever developed. The exceptional performance of these laptops guarantees a flawless experience. In addition, the Clevo nh70 is offered at a reasonable price.
Here, we present a thorough examination of the Clevo nh70 gaming laptop, taking into account your demands, its benefits and drawbacks, and your display, battery life, storage capacity, sound, and CPU performance preferences.
If you're looking for an exhaustive guide to the Clevo nh70 gaming laptops, you should read this site.
Read More: Best Free Ai Image Creators 2023
Clevo NH70 – Specifications 
The Clevo NH70 has a long list of impressive specifications, which have been arranged in a table for easy viewing.
| | |
| --- | --- |
| Model | Clevo nh70 |
| RAM | 8GB |
| Storage Type | 256 GB SSD |
| Memory Speed | 2666Mhz |
| Graphics Card | Nvidia GTX 1060 graphic card |
| Processor  | Intel core i7 9750H Processor |
| Display Size | 17.3 inches full HD |
| Pixels per inch | 127.3 pixels-per-inch  |
| Resolution | 1920×1080 |
| Battery | 14.4v 3275mAh |
| Battery Life | 3.5 hours, 14.4V 3275mAh |
| Weight  | 2.5 kg |
| Operating System | Window 10 home |
| GPU | Nvidia GTX 1060 graphics card |
| Price     | $1550 – $1700 |
Clevo nh70 Gaming Laptop Features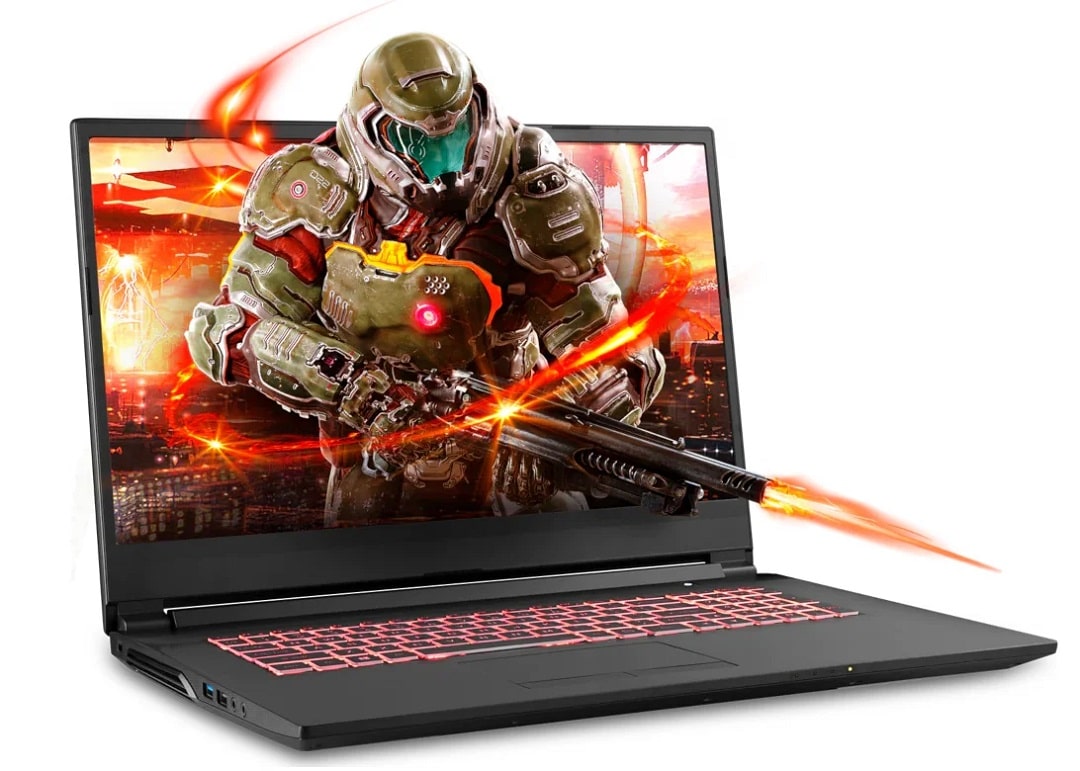 After reviewing the Clevo specifications, the features will pique your curiosity. Below is a list of every Clevo feature.
1. RAM
Clevo has 8GB of DD4 RAM, a memory type commonly seen in laptops. Ram is essential to the functionality of a laptop or other device since it saves temporary computing work. RAM has a direct effect on the performance of the computer's tasks.
2. Pixels
Clevo NH70 laptops have a 127.33ppi. This implies that the screen's width is 1920 pixels, and its height is 1080 pixels. The Clevo NH70 laptops include approximately two million pixels. These pixels are adequate for playing challenging games.
The screen size will decide the pixel density for the NH70 display. The screen size determines the pixel density. The pixel density will rise if the screen size is decreased.
3. SSD and Storage
On Clevo NH70 notebooks, solid-state disks (SSD) presumably provide data storage. The answer depends on the NH70 laptop model in question. Other variants may use SSDs with capacities of 512GB, 1TB, or 1TB.
4. High-End Resolution
Clevo offers 1920 horizontal pixels and 1080 vertical pixels. The pixel quality will improve if the screen size is lowered. Such a display is suitable for gaming and other uses. As it provides the maximum visual resolution in pixels, you may enjoy your graphics-intensive games, movies, and videos in the best possible quality.
5. Keyboard
The Clevo NH70 laptop keyboard is intended for use with Clevo PCs. The layout of the keyboard is standard QWERTY with a number pad on the right. Backlit keyboard keys enable typing in dimly lighted areas.
The NH70 keyboard is intended to withstand heavy use and is resilient. The ergonomic and comfortable design of the full-size keyboard makes prolonged typing effortless.
6. Battery Performance
It has a 3275 mAh battery with a maximum duration per charge of 3.5 hours. Its battery capacity is sufficient for standard/professional uses.
7. Processor
It contains a 2.60 GHz Intel Core i7 9750 processor that can perform all tasks with ease, whether they are light or demanding. In terms of performance, the Clevo is able to handle all heavy tasks, including gaming, as well as a variety of applications and other responsibilities.
8. Graphics
The Clevo-NH70 notebook features a dedicated GPU. Sometimes referred to as a dedicated graphics card. The laptop's graphics card is an NVIDIA GTX 1060. This card is suitable for gaming and other graphics-intensive tasks.
Depending on the game, it can run the majority of modern games at 1080p resolution and medium-high settings.
9. Perfect Screen Size
This laptop has the greatest image quality, making it excellent for gaming. The screen has a size of around 17.3 inches and HD resolution. This enormous display lets you enjoy your favorite films and play the most recent and difficult video games.
Read More: Technology Trends in 2023
How to Optimize Clevo Nh70 in a Proper Way?
The performance of the Clevo is adequate for gaming and other multitasking duties, but with the correct care, you may extend the performance of your laptop.
By terminating jobs that are no longer required, performance and task execution can be enhanced. This will free up space and enhance the performance of the laptop.
Always use the most effective anti-virus software to protect your computer from harmful infections and boost its performance.
Use a system that removes unnecessary files and frees up space on the hard disk to accelerate the system.
Disconnect the charger when the battery is fully charged, as leaving it plugged in will affect its functionality.
Use the latest software and application versions since they will perform ideally on your PC.
Is Clevo nh70 Portable Device?
Due to its features and characteristics, Clevo is one of the most well-known gaming laptops on the market today. Nevertheless, is it transportable and portable?
This exceptional laptop's design is superior, sleek, and attractive, and it offers the finest HD image quality.
Portability is measured by the ease with which the item may be carried. Considering its weight, the equipment is heavy and difficult to move. This invention by Clevo is heavier than its market competitors, weighing between 2 and 3 kg. Due to its substantial weight, it is difficult to transport on a trip or elsewhere.
Read Also: AI Writing Software
Clevo nh70 Disagreeing Gaming Drawbacks
The Clevo nh70 offers a variety of pros and downsides that distinguish it from other gaming laptops on the market. Let's meet them separately.
The Clevo nh70's maximum resolution of 1920 x 1080 is insufficient for a gaming monitor. Modern video games are frequently marred by a distorted display caused by oversized pixels.
Battery Life Availability The battery efficiency of 3.5 hours via battery type 14.4V 3275mAh is a disappointing feature that falls short of a gamer's goal to last long enough.
The 2666 MHz RAM speed of the Clevo does not match the minimal criteria for a gaming laptop. A gaming computer or other intelligent device's memory speed must exceed 3000MHz.
Despite the fact that gaming laptops are typically heavy due to their strong processors and metalcore components, the Clevo nh70's weight of 2.5 kg appears excessive. The Clevo nh70 is unfit for long-distance travel.
Is it Worth Buying Clevo nh70?
There are a variety of gaming laptops and devices on the market. The features and qualities of each gadget are fully dependent on your needs and budget. This Clevo laptop gives its clients the best gaming experience. The memory of this gadget is expandable, although its price varies by model.
This is the best option if you want to acquire a laptop for gaming purposes just, as opposed to school and work. Nevertheless, it has a short battery life for heavy games.
It lacks webcam functionality. Moreover, this laptop's 8 GB of expandable RAM and Intel processor allow for multitasking.
Read Also More: AI Online Course Tips
Warranty and Claims
Regarding the warranty and claims, the Clevo NH70 metal comes with a one-year warranty that covers manufacturing defects and non-user-caused hardware issues, such as malfunctioning screens, keyboards, and internal component failures. Frequently, it comprises both components and labor. So, you should not be concerned if you have any issues with the mechanical component.
Clevo nh70 User Review
Several customers have praised the performance and value of the Clevo NH70 laptop. The majority of consumers agree that it is an exceptional laptop for gaming, leisure, and business use. A few buyers also mentioned that the battery life could have been greater, but consumers were overall delighted with the device's performance. Some contend that continuous use of the laptop causes it to overheat, necessitating the purchase of extra cooling systems and that it is not cost-effective.
Targeted Buyers of Clevo NH70
The Clevo NH70 laptop was created with a focus on gaming capabilities. So, it may only be used for school or work. So, only individuals who seek to enhance their gaming or multimedia experience should get this laptop. It is merely adequate for playing games.
Read Also More: Python Developer Tools
Pros and Cons 
These are the pros and cons of this gaming laptop, which will assist you in deciding whether to purchase it or go with an alternative manufacturer.
Pros
Image quality and pixel density are superb.
The visual card is perfect for playing advanced video games.
The ninth-generation Intel processor provides an exceptional gaming experience.
A term that features color-changing lighting for improved study.
Well-suited for intensive gaming.
Cons
This laptop's price is reasonable, given its features.
The battery life of 3.5 hours is unimpressive.
It is not suitable for office or at-home work.
This laptop is heavier than usual in weight.
The Clevo laptop does not include a webcam.
Conclusion
The Clevo nh70 is an exceptional gaming notebook. If you're looking for a gaming laptop with a high-resolution display and a powerful processor, the Clevo nh70 is an excellent choice. The interior, thermal, and other specifications are presented above for your convenience. However, how you want to use the laptop is entirely up to you, and your priorities are quite important.
If you are looking for a laptop for office or home-based work and are not a lover of video games, this model may not be the greatest option. This laptop is the ideal option for gamers who prefer to play memory-intensive games on a high-quality display, despite its somewhat higher price.
Frequently Asked Questions (FAQs) about Clevo NH70 Gaming Laptop 
Which processor does Clevo nh70 have?
The Clevo nh70 features an Intel i7 processor.
How Much Does the Clevo Nh70 Cost?
It costs approximately $1,050 in the United States, but the exact price has not been confirmed. It depends on market prices. If you want to buy this item, you must investigate its price on the market or through online merchants.
Can I upgrade the Clevo memory?
Yes, this device's RAM, ROM, and SSD can all be increased up to 1TB. Now, it is equipped with 256GB of storage and 8GB of RAM.
What is the warranty on a Clevo laptop?
Generally, Clevo laptops provide a one-year warranty, though this may vary by model and location of purchase.
Can Clevo laptops be upgraded?
True, many Clevo laptops are upgradeable in terms of RAM, storage, and graphics card. Nonetheless, it is vital to establish whether the particular model can be improved.
Are Clevo laptops good for gaming?
Due to their flexible design and robust components, Clevo laptops are usually recognized as suitable for gaming.
How long does the Clevo battery last?
The Clevo's battery performance is adequate for daily tasks but barely lasts three to four hours when playing heavy games. It features a 3275 mAh battery, which is adequate for regular tasks but inadequate for gaming.
Where can I purchase a Clevo laptop?
Customers cannot purchase Clevo laptops directly from the manufacturer.